Thanks to government rebates, high quality solar power is now less expensive than you'd think. But rebates are phasing out, which is why the earlier you take advantage, the more you'll save.
You want to make sure that your system is a sound investment, not an install-and-run. Depending on the quality of the system, your solar panels could last you 5 years or 25 years.
Inverters, panels, wattage, warranties...there's a lot to think about.
Rebates: the early bird catches the worm
Trusted Tier 1 brands give you peace of mind for decades
Immunity from energy price hikes
We only use what we'd recommend to our grandmothers
You want a guarantee that each panel is well-designed and thoughtfully engineered. Plus, they must tolerate our Queensland hailstorms and salty coastal air. The brands we select come with excellent warranties. Useful accessories like smart monitoring apps to give you more control over your household energy consumption. You're also guaranteed that the panels will keep producing high energy outputs as they age, even after as long as 30 years.
Our Favourite Solar Panels
The difference between a reputable, quality panel and low-cost panels lies in the details. Monocrystalline cells have a higher output efficiency than polycrystalline. Double glass panes are more weather-resistant and reliable. Tempered glass gives more protection against cracks. Award-winning brand, SolarWatt, ticks all these boxes.
German engineering from SolarWatt
30-year warranty for both product and performance
Guaranteed to maintain 87% output for 30 years
Specialised glass layers prevent cracks and hot spots
Salt and hail resistant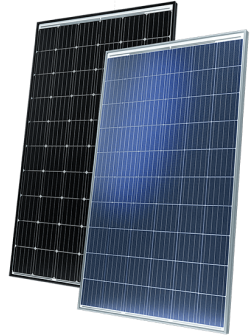 15-year product warranty
25-year linear performance warranty
Q.ANTUM DUO Z Technology with zero cap cell layout boosts module efficiency up to 21.1%
Long-term yield security with Anti LID Technology, Hot-Spot Protect and Traceable Quality Tra.Q
Optimal yields, whatever the weather with excellent low-light and temperature behaviour
High-tech aluminium alloy frame, certified for high snow (5400Pa) and wind loads (4000Pa)
25-year product warranty
25-year linear performance warranty
Q.ANTUM DUO Z Technology with zero cap cell layout boosts module efficiency up to 21.4%
Long-term yield security with Anti LID Technology, Hot-Spot Protect and Traceable Quality Tra.Q
Optimal yields, whatever the weather with excellent low-light and temperature behaviour
High-tech aluminium alloy frame, certified for high snow (5400Pa) and wind loads (4000Pa)
Hyundai Solar Panels
One of the most trusted brands globally
Monocrystalline cells
Weather resistant with tempered glass and reinforced frame
Proven cell efficiency of 17-19% (that's high)
Low operating temperature (so it loses less power)
25 year warranty
Seraphim Solar Panels
10-year guarantee on product and workmanship
25-year warranty on power output
Proven reliability through hail stones, sand, pH changes, and wind load
Dense monocrystalline and polycrystalline cell combination
Proven cell efficiency of up to 22.3% (that's really good)
Anti-reflective coating allows more sunlight to be captured
Hotspot prevention leading to improved yield over the lifespan
Outstanding work by the whole team.The whole process was extremely enjoyable and professional.We have been impressed by the whole arrangement from the initial discussion to the final installation

Stuart Dougall
01:51 23 Jul 22
Very happy with all aspects of the job from quotation to installation to follow-up. Good value to boot!

Matthew Dash
00:01 22 Jul 22
Easy, simple process and great services from quotation to installation

fiona ewing
09:55 20 Jul 22
Expert Electrical provided a very professional service from the first contact, where there was no sales gimmicks or pressure to sign up, through the quoting process, that came with plenty of advice and options and the installation that was completed on time and without any hassles. Highly recommend them.

Got solar installed 10 months ago, my house flooded during the Jan floods. Had my roof inspected by a roofing plumber who advised me that when my solar was installed the Dektite and wiring wasn't sealed which caused my roof to leak. I contacted expert electrical and they denied any responsibility and refused to rectify the initial issue from the installation. I am now left with a $660 bill to fix the water damage.

Karina MacDonald
04:20 13 Jul 22
I was somewhat apprehensive when looking for quotes for our new Solar system because I knew what I wanted and out of 6 companies that quoted Expert Electrical was the only company that understood what I was trying to achieve. Ben and his team were very professional in their approach and the system is operating perfectly. The installation work is very neat and Ben and his team should be proud of what they have done for us. I couldn't be happier and have no hesitation in recommending Expert Electrical to anyone looking to install solar.

Warren Mason
23:42 10 Jul 22
Expert Electrical certainly lived up to their name. They are experts in what they do.Shannon solar designer/sales - was very knowledgeable, answered questions in a timely manner and was more than happy to run different designs.Once the contract was signed Expert Electrical started the process with organizing the grid connection.Installation team - Grant, Harry & Ben - very easy to deal with, very polite, did their best to accommodate requests to do all noisy works as early and quickly as possible to allow family to sleep during the day. They worked very efficiently to get the whole 10.53kw system in 1 day. They went over the whole system and how to use the invertor app.

Matt Bellina
11:15 10 Jul 22
A great service from start to finish.The team at Expert Electrical provided a very professional, efficient and thorough service from provision of a quote to post-installation support such as registering for solar tariffs etc.I'd highly recommend Joran, Martina at the team.

Peter Liebrich
02:19 04 Jul 22
Knowledgeable, professional, and felt well informed from start to finish. Highly recommend for price and service. The whole experience was great.

Lisa Hurford
03:47 27 Jun 22
Just had a solar / battery system installed by Expert Electrical. After a really bad experience with AGL who delayed my install for more then 10 months, I have decided to use a local company for the project and right from the start, the team at Expert Electrical has not disappointed. From being on time for quotation, the explanation of the planned system right up until the promised timeframe for the install, Expert Electrical did not fail in any of their promises. And the whole system was installed after a 1 full day's work.All the staff who helped me was a pleasure to deal with.

Michael Iu
14:09 26 Jun 22
These guys installed our solar in Brisbane, They are highly efficient and professinal. First class.

Bob Worsley
01:43 22 Jun 22
Thanks to you, Shannon and the team onsite who completed the install. Very easy to organise, great communication and very professional service.The quoting process was seamless and when we has a few questions, these were answered simply. We were also provided with a range of options. Shannon talked us through each and provided information about current usage etc.The installation crew, lead by Maurice, were on site and were super efficient. They obviously work so well together. Maurice took me through the App and answered numerous questions i had.Martina and the support team had great communication. I knew where the process was at at every stage, and the follow up calls thereafter were greatly appreciated.Overall, we know we made a great decision for our household based on the expert knowledge and advice provided by Expert Electrical and the service has been second to none.

Emma Johnson
22:04 07 Jun 22
Expert Electrical did a fantastic job of installing solar at my house. Thank you.

Rodger Smith
00:27 07 Jun 22
Really happy with the job Expert Electrical did for us. Very professional and good communication. Would certainly recommend them for your solar installation

Kirsten Mullens
22:44 06 Jun 22

Emma Johnson
05:29 06 Jun 22
The whole process was fabulous from quoting to installation. The system is wired very neatly & the panels look great. The installers were really good arrived on time, answered my many questions & cleaned up before they left. Follow up was excellent with helpful advice & checking that we were satisfied with all aspects. So far very happy.

brian beckett
10:37 01 Jun 22
Great team. Easy process from quoting to installation. Zack was great at sales stage. Maurice and team were awesome during installation, friendly and polite, finished on time. Customer service team was also great - Martina and Courtney. Highly recommend the team for solar!

Tasleem Hasan
02:29 27 May 22
Smooth quoting process. Very personable and approachable. Very accommodating with installation as we were in the middle of 2 other roof works! Prompt, clean and polite.Very happy overall and would highly recommend.

Jacki Hack
01:48 27 May 22
Expert Electrical was very punctual when coming to our home to quote and to install. Polite and friendly staff and efficient installation. Really like the SMA app for online monitoring of our system.

ron magill
04:19 25 May 22
Awesome company to deal with, really appreciate their efforts. Lee was great getting it all signed up, and Maurice was awesome on the install. 10/10

Karl Baker
20:56 24 May 22
I highly recommend this company for solar. They were very professional, honest and have great customer service. They presented all the facts and figures in an easy to understand manner. The installation team were prompt, friendly and done a great job of explaining how to use the system.

Hannah Pascoe
08:44 22 May 22
Got Questions? Ask the Solar Experts...
We're More Than Just Solar
Are we claiming too much? We don't think so. As both accredited electricians and solar specialists, we don't like the cookie cutter approach. Instead, we partner with you to understand the big electrical picture of your property before any recommendation or installation. That's what makes us especially good at the non-standard situations. And while we're talking solar, we can help with any other electrical issue too.

All-inclusive Solar Systems
Renewable energy is the way of the future. Don't settle for a cheap system that will only last 5 years, when a good quality system, made affordable through rebates, could last you 25 years. Speak to us about asking the right questions before you install solar.
Lights, fans, power upgrades and more. No need to look any further for household electrical services. That includes hooking up your solar system to a switchboard. Use our one-stop shop advantage.

Queensland summers—sticky, huh? Stay cool and comfortable with the perfect air con for your home. Whether it's a split system or the more powerful ducted vents, we'll help you weigh the pros and cons to make the best decision.